Share:

Gold price is attempting to move lower into support following FOMC minutes.
Fed minutes show officials split on support for more hikes.
 The Gold price is mixed around the Federal Open Market Committee minutes that showed that the board members agreed that inflation risks are still unacceptably high but officials also generally agreed that the extent of further hikes are less certain. Gold price has ranged between a low of $1,961 and a high of $1,965 so far around the event but has traveled in a wider range of between $1,956.77 and $1,985.39 on the day so far.
FOMC minutes, key notes
Some participants commented that additional policy firming would likely be warranted at future meetings.
Some participants stressed it was crucial that policy that the statement not signal the likelihood of rate cuts this year or rule out further hikes.
Fed staff continue to forecast mild recession starting later this year, followed by a modestly-paced recovery.
Several participants said if the economy evolved along lines of their outlooks, further policy firming might not be needed.
Participants generally agreed that the extent to which further interest rate hikes may be appropriate had become less certain.
Many participants focused on need to retain optionality after May meeting.
Participants judged that the banking sector stress would likely weigh on economic activity but to an uncertain extent.
Participants agreed that inflation was unacceptably high, and are declining slower than they had expected.
Some participants noted concerns that the Federal debt limit may not be raised in a timely manner, threatening significant financial system disruptions, and tighter financial conditions.
Overall, the Fed minutes show officials were split on support for more hikes. As such, the market is directionless. 
Meanwhile, analysts at TD Securities explained that the debt ceiling headlines are noisy, but there is still signal in the noise.
´´Gold prices managed to rally yesterday despite headwinds from a rising broad dollar, which reveals notable demand behind the scenes. This fits into our view for imminent selling exhaustion in precious metals. In fact, we argue the positioning set-up is favorable for gold bulls, which have kept their position sizes contained, whereas systematic trend followers still hold a high bar for additional CTA liquidations,´´ the analysts explained. 
´´Importantly,´´ they said, ´´discretionary traders have yet to buy into the rally, which contrasts with the typical recessionary playbook.´´
´´Meanwhile, pressure on the banking sector is persisting, and data is likely to moderate further and drive expectations for a deepening cutting cycle on the horizon. Recent liquidations and short acquisitions may ultimately add dry-powder for additional price gains,´´ the analysts concluded. 
Gold technical analysis
The Gold price is testing the support structure, but while below the trendline resistance, the bias is bearish: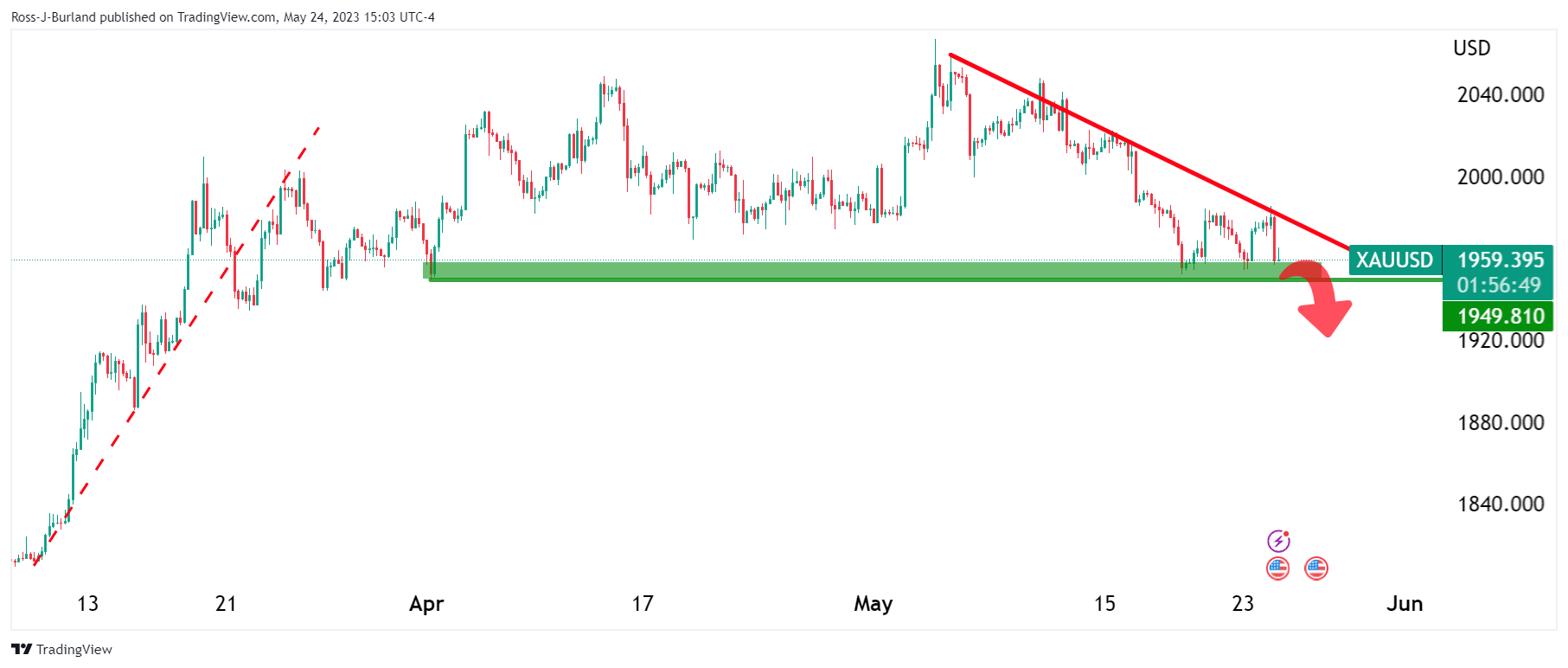 Bears will need to get below $1,950 to confirm the prospects of a continuation into the longs that were building since March.